Activities, Routes and Paths
Cervera de Buitrago has a wealth of resources for you to do countless activities.
You will be able to cross the mountain range in donkey, walking or cycling, to sail in our reservoir in canoe; Sailboat or surfing; Eating in our restaurants, overnight in the different rural establishments; Quad biking, camping, fishing and hunting, picking plants and mushrooms, watching the stars…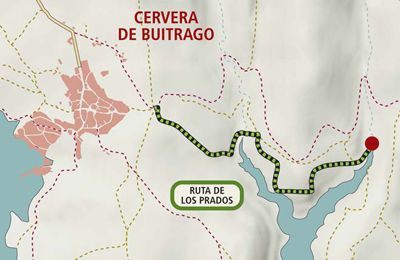 This path leads to one of the arms of Atazar Reservoir through a path surrounded by ash trees and gravels by meadows known as "de Jimena". On the path you cross an old dam containing sediments and after crossing it, the road continues down the slope until you reach the banks of the reservoir where you can contemplate some fabulous views.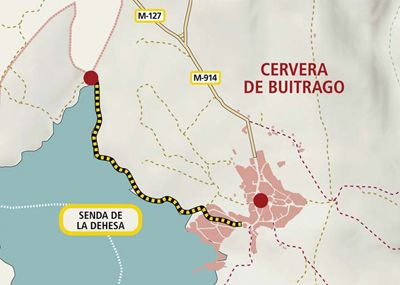 The Path of the Dehesa allows us to make a pleasant walk throughout the year, along the banks of the Atazar reservoir, between ash trees and oaks and rest in the Dehesa Boyal of the meadows of Cervera de Buitrago.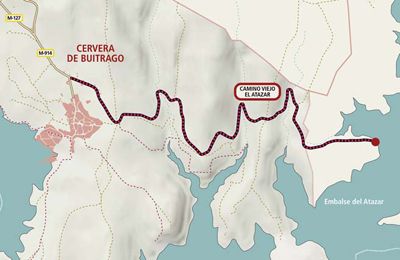 Route of the bridges – old road of the AtazarFrom the Plaza de las Arcas and following the C / Pozo, after passing the Accommodation El Egío, we take a dirt road that will lead to the old road that joined Cervera de Buitrago with El Atazar. At the moment it is a track of zahorra that will allow us a very pleasant walk both walking and cycling.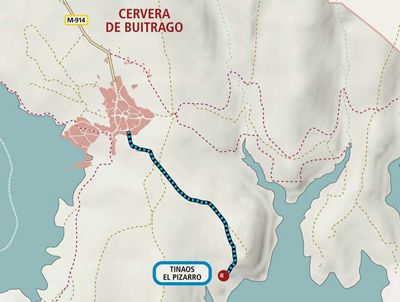 Starting from the Plaza de las Arcas and following Calle del Nogal, you come to the cemetery. From here you can see one of the best views of the village with its contrast between mountain village and sailor. To the left of the cemetery there is a small path that will lead us between gullies to "Tinaos del Pizarro", recently restored and still used by a local cattleman. From this point you can contemplate a spectacular view of the Atazar reservoir.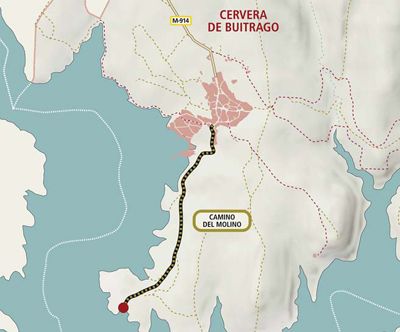 Leaving from the Plaza de los Artesanos (or Plaza de la Encina), next to the viewpoint of the reservoir, follow the road that descends to the Marina de Cervera. Passing the access to the Marina, we will continue along the road about 500 mts. And we will find a road that leaves to the left, closed by a wattle that avoids the passage of vehicles. This is the Mill Road and continuing through it we will reach the reservoir, under whose waters the old mill is submerged.
Dirección General de Turismo
Cervera de Buitrago
Ayuntamiento de Cervera de Buitrago
Teléfono / fax: 91 868 71 17
Correo electrónico:
adl[arroba]cerveradebuitrago.org