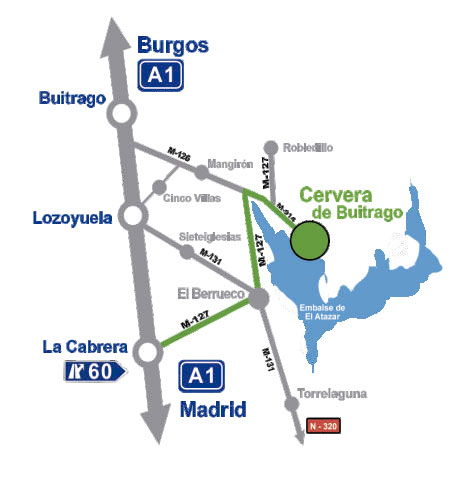 Cervera de Buitrago it´s a small town located on the banks of the El Atazar reservoir.
Its territory is divided topographically in two spaces by the line that runs from the height of 1,028 m. of Valdecornoque, in the north, and 974 m. of Cerrillo de la Jara.
Access by road from Madrid:

We take the A-I towards Burgos, until exit 60 (La Cabrera), where we take the M-127 towards El Berrueco. We cross this municipality and by the same road we arrive at Cervera de Buitrago.
Access by bus:

From Madrid, in the transport interchange of Plaza Castilla, line 191 (Madrid – Buitrago del Lozoya). On weekends there is a direct line. From Buitrago, we connect with line 191E (Buitrago del Lozoya – Cervera de Buitrago).
Tlf information of ALSA: 902 422 242 or www.alsa.es
Regional Transport Consortium: www.ctm-madrid.es.
Dirección General de Turismo
Cervera de Buitrago
Ayuntamiento de Cervera de Buitrago
Teléfono / fax: 91 868 71 17
Correo electrónico:
adl[arroba]cerveradebuitrago.org