Church of Santa María de los Remedios
Baroque church built in the sixteenth century (1538) and, although very reformed, still retains the original head. Its walls are of masonry. The oldest remains preserved are compounds, in addition to the header, for alfarje (ceiling wood) Mudejar incomplete covering the chancel and a triumphal arch, built with large segments of granite and serves to Divide the main chapel of the church body ".
Like many of the temples in the area, he was looted during the Civil War, at which time he lost the altarpiece of the presbytery.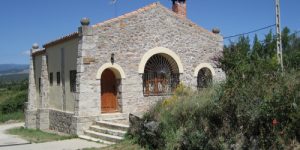 Laundry Besides being a space of public utility, the laundry was a fundamental space in social relations, since it was the meeting place of the neighbors. At present, the laundry houses two holiday homes, where it has been tried to maintain to the maximum the internal structure of the same, thus preserving another of the signs of cultural identity of the municipality.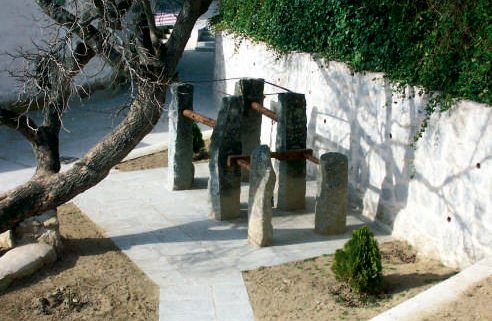 Typical construction of the municipalities of the Sierra Norte whose origin dates from the Middle Ages.
The colt was used by the neighbors to immobilize the cattle of labor to iron them and to practice certain cures more comfortably and without danger. The animal was placed inside the foal, among the stone pillars that were nailed to the ground and tied with leather straps. The bent legs of the animal leaned on smaller stones and the head was attached to the ubio (wooden yoke) which immobilized and facilitated the fitting.
It consists of the following elements:
Stone pillars nailed firmly to the ground with other smaller stones
Wood yoke
Wooden crossbars where the leather straps were tied to immobilize the animal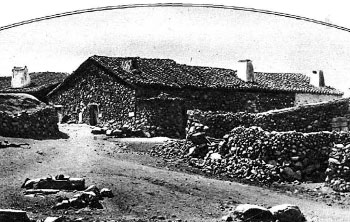 The traditional houses were mixed with the agricultural constructions (haystacks, tinados, pens, etc.).
The floors of the buildings were compact and closed without patios, sometimes attached to the main floor (such as the bread oven, which sometimes protruded from one of the facades with its semicircular plant, or the courts where the cattle were kept ). The roofs of Arab tile and large cloths with small cornices. In general the facades were characterized by being smooth with small windows, large doors and by the absence of balconies. The material used traditionally was the stone of the area, concretely granite and slate, with which the wood was intermixed in doors and windows.
Inside, the kitchen occupied a privileged place and was where the oven was located, which, outside, acquired an original semicircular shape as an apse. In the kitchen there was also the fire, which served to warm the house and to cook. On it was placed a large circular bell from which hung the products of the slaughter (hams, sausages, etc.) so that they were cured with the smoke of the fire.
Dirección General de Turismo
Cervera de Buitrago
Ayuntamiento de Cervera de Buitrago
Teléfono / fax: 91 868 71 17
Correo electrónico:
adl[arroba]cerveradebuitrago.org